In this new era of musicianship and sonic presentation, there is an extensive amount of music in Hip-Hop and a litany of sub-genres available to be tapped into for artists to engage in the expression of self through rhythm and rhyme. With that being said, they are certain trends, fads, and styles that are more commercialized and easier to digest than others. While other artists have the talent and catalogues to warrant the same, if not a higher level of appreciation, for some reason they cannot seem to reach the same level of acclaim or devoted fanbases. This article was created to serve as a beacon on what I consider the best albums of 2017 that didn't receive the proper widespread appreciation from the music fanbase within Hip-Hop at large. I present the Top 5 Unsung Albums of 2017.
1. SYRE: A Beautiful Confusion by Jaden Smith
This is an amazing piece of sonically appeasing instrumentals, vocals, consciously present and timely lyricism from an artist at such a young age (19) at the time of its release in November 2017. SYRE is a story of love, loss, and self-discovery that is delivered in a rather layered, but still very abstract fashion that requires thoughtful listening from the fan to truly understand and admire the full scope of his viewpoint and how he tied it into Greek mythology and Shakespearean poetry. This is an ambitiously produced and executed album that is well worth the listen and is debatably a TOP 5-7 hip-hop album of 2017 from a very unsuspecting artist. People need to get past the fact that he has rich and famous parents, it really has nothing to do with him as an artist and his message. This young man has something to say and has found a sound to compliment it quite well.
Album Grade: Solid B
- B L U E (4-in-1 song sequence)
- Hope
- Ninety
- Icon
- Lost Boy
- Fallen
2. Forever is a Mighty Long Time by Big K.R.I.T.
The southern-bred artist undoubtedly has the talent and discography to contend as a top 5 artist in this era; however, the masses don't respect him to the degree that many core fans of hip-hop and BIG K.R.I.T. feel that he deserves. This double-album shows many different sides and tones of the Mississippi artist and his hunger to be placed on the Mount Rushmore of the 2010s along with Drake, Kendrick, and Cole. This album serves to cater to many different demographics of his fanbase without going far enough to sacrifice his artistic integrity by watering down his content, signature style, and lyricism. The production quality on this album is very good, the feature artists show up to provide solid contributions to the projects and power K.R.I.T. into position for one of the best albums of 2017, whether the masses seem to know it or not.
Album Grade: B -
- Confetti
- Subenstein
- Ride Wit' Me
- Layup
- Get Away
- Higher Calling
- Price of Fame
- Drinking Sessions
- Bury Me in Gold
3. Laila's Wisdom by Rapsody
Uttering bars by the truckload, the utmost female lyricist in the rap game currently, Rapsody offers the best female rap album of the year and is competing with some heavy hitters on this album (Kendrick Lamar, Black Thought, Busta Rhymes, etc.) to stake her claim for a top-ranking rap album of 2017. The production, song sequencing, story-telling, noteworthy lyricism, and punchlines all come together to create a beautiful project that should go on to spark a new breath of life into female hip-hop artists that wish to excel in the artform without attempting to sell anything other than their art in the process. Rapsody was able to tell more stories than her own throughout this project while still being able to maintain the core vision of the project by not seeming to reach and thus create a scatterbrained album that inevitably misses the mark its potential sets. This album should go down as one of the heralded albums of the year, and of the era for female hip-hop artists.
Album Grade: B+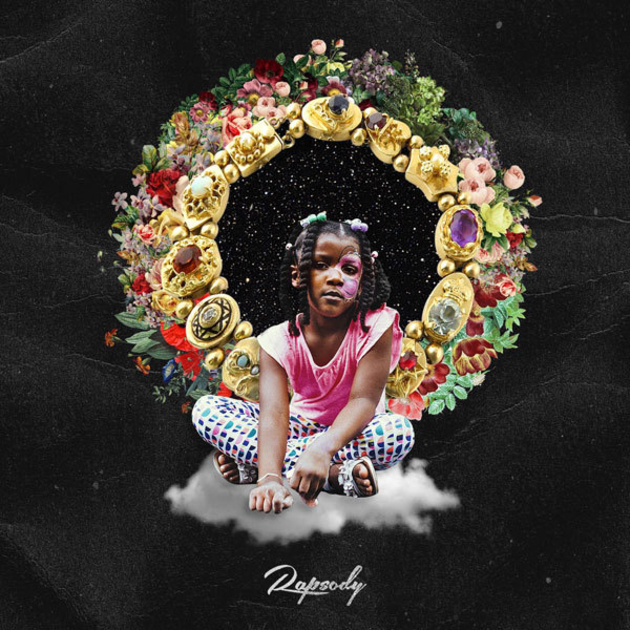 - Power
- Ridin'
- Nobody
- Black & Ugly
- You Should Know
- Knock on My Door
- OooWee
- Jesus Coming
4. The Never Story by J.I.D
The Atlanta rapper that has found a home on J Cole's Dreamville Records, and a home in the newest era of hip-hop artists as one the elite standouts of his class and even some classes preceding him. His versatility is a pivotal piece of the package that sets him apart from his peers, and he shows it throughout this album. His technical prowess is at a level that demands attention and appreciation, and he holds no punches as he effortlessly transitions through different flow patterns while telling interesting multi-layered stories of his highs and lows that led up to his signing with Dreamville and becoming one of the young stars and XXL freshman (best one imo). He has a very bright future ahead of him, and this project is a strong indicator of the sheer potential that he possesses, and a message to his peers that he is here to stay and at their necks in the process.
Album Grade: Strong B -
- NEVER
- D/vision
- Hereditary
- All Bad
- 8701
- Lauder
5. No Dope on Sundays by CYHI da Prince
There is not really much to say about this man and his skills. This album is CYHI doing what he does best over very good production. Follow the themes that are laid out throughout the album and you should be impressed with how he puts it all together with his signature rap style and constant barrage of punchlines and metaphors. Truth be told…. Just listen to it.
Album Grade: Strong B
- No Dope on Sundays
- Trick Me
- God Bless Your Heart
- Nu Africa
- Free
- 80's Baby
- Closer